Marketing is fundamentally concerned with the description and prediction of decision outcomes involving all aspects of the firm that relate to its customers, competitors, distributors, and business regulators. Interest in description and prediction, in turn, is associated with the improvement of marketing decision making.
Marketing is an interdisciplinary field that draws upon theory and methodology from a wide variety of sources, including psychology, sociology, mathematics, statistics, and economics. Recent developments in the field include new methods and theories for understanding buyers' perceptions and preferences, probabilistic choice models, models for allocating marketing resources,  econometric analysis of large data bases, and micro-economic models for marketing strategy.
The Wharton School's Marketing Department has had a long tradition in the development of new research methodologies and the successful implementation of new decision models and techniques in the practice of marketing.
OBJECTIVES
The program's specific objectives are:
To provide an interdisciplinary environment for the generation of creative ideas in marketing;
To provide sufficient analytic skills for evaluation (and implementation) of these ideas, i.e., critical insight;
To provide training in the communication of these ideas to others; and
To encourage a type of cumulative contribution to the marketing field by a process of learning how to learn, i.e., the strategy of scholarly inquiry.
These objectives are implemented by means of a varied program of seminars, joint research projects, and colloquia.
DEGREE REQUIREMENTS
The Wharton Doctoral Programs consist of two distinct phases: pre-candidacy and candidacy. In general, during the pre-candidacy phase the student completes
the required coursework
preliminary examinations
any requirements imposed by the student's specific Department or Program such as additional qualifying examinations and research papers.
Upon satisfying all of these requirements, the student applies in writing to their Department Ph.D. Faculty Coordinator for admission to candidacy. The Coordinator will review the student's record and make a recommendation to the Vice Dean. Upon approval by the Vice Dean, the student is admitted to candidacy.
The candidacy phase comprises
preparation and defense of the dissertation proposal
doctoral dissertation
final defense of the dissertation
CANDIDACY REQUIREMENTS
The following are the specific requirements for the Marketing Department.
Before admission to candidacy, the student is required to:
Complete the required 15 credit units of graduate level courses as described in detail in the Coursework section below.
Take and pass the Marketing Qualifying Examination offered at the end of the first year.
Complete a faculty-supervised First Year Research Paper due approximately August 25, before the start of the second year.
Complete a faculty-supervised Second Year Research Paper due by approximately August 25, before the start of the third year.
Complete all forms required by the University. Link to forms:  https://doctoral-inside.wharton.upenn.edu/forms/
COURSEWORK
The Ph.D. program in marketing is based on the completion of the dissertation as well as a minimum of fifteen graduate level course units.
These courses assume that the student has a basic knowledge of various business areas, computer programming, calculus, and matrix algebra.
Of the 15 course units, a maximum of 4 can consist of transfer courses for graduate work at other universities with approval of the Department's PhD Coordinator.
In addition, only 2 of the 15 course units can be independent study courses.
Courses are taken from the following categories:
MAJOR Field Courses - 5.0 CU
The Marketing Department requires that students take five course units (cu) of Ph.D. seminars.
Students can select the Quantitative Track or the Consumer Behavior Track when choosing which marketing seminars to take, according to their research interests.
If a required Marketing Seminar is not offered, students may submit a request to the Marketing Department's Doctoral Committee for a course substitution.
The required seminars are:
Consumer Behavior Track

: 3 credit units as follows
MKTG 9500 (0.5 cu) and MKTG 9510 (0.5 cu)
MKTG 9520 (0.5 cu) and MKTG 9530 (0.5 cu)
MKTG 9540 (0.5 cu)
MKTG 9560 (0.5 cu)
                    OR
Quantitative Track:

3 credit units as follows
MKTG 9540 (0.5 cu) and MKTG 9550 (0.5 cu)
MKTG 9560 (0.5 cu) and MKTG 9570 (0.5 cu)
MKTG 9500 (0.5 cu)
MKTG 9520 (0.5 cu)
                   AND 
Seminars required for all students

: 2 credit units
MKTG 9400 (0.5 cu)
MKTG 9410 (0.5 cu)
MKTG 9420 (0.5 cu)
MKTG 9430 (0.5 cu)
Please see the links on the right for Course descriptions and schedules. Students wishing to take any of these courses need permission from the course instructor before they can register for them. Please see Program Advising and Registration for details about how to enroll in these courses, and how to set up an Independent Study section (MKTG 9990).
Basic Courses - 3.0 to 4.0 CU
Economics Requirements
Students are required to take one of the following three Economics sequences:
ECON 7100 and ECON 7110 ( Microeconomic Theory I & II) OR
ECON 6100 (Microeconomic Theory) and ECON 6110 (Game Theory and Applications) OR
BEPP 9500 (Managerial Economics)
Statistics Requirements
According to the requirement established by Wharton Faculty, Wharton doctoral students must demonstrate competency in statistics. Students are required to demonstrate proficiency in the material covered in one of the following course combinations:
STAT 5000 and STAT 5010 (or PSYC 6110 and PSYC 6120)
STAT 5150 and 5160
STAT 5200 and 5210
STAT 9700 and 9710
ECON 7300 and 7310
SOCI 5351 (Quantitative Methods II) and STAT 5010
*Non-statistics Wharton PhD students may take STAT 9270, 9610 (Statistical Methodology – previously STAT 541), 9620 and STAT 5420  as electives only after fulfilling one of the required course combinations listed above. Students who would like to take these courses are required to ask for an interview with the instructor and receive his/her permission.
Exceptions to these sequences, or the ability to "mix and match" courses from these sequences, is allowed- however, must receive written approval from the current doctoral coordinator of the statistics department program.
The specific courses permitted to satisfy the statistics requirements are determined by the Wharton Doctoral Program Office.  Please consult the
Wharton Doctoral Programs Policies and Procedures
for a list of the courses and for any updates to this list.
Courses in a Related Field - 2.0 to 3.0 cu
Students also complete course units in related fields. A partial list of possible related fields includes:
Communications Research
Decision Processes
Econometrics
Economics
Information Systems
Operations Research
Psychology
Sociology
Statistics
Electives - 4.0 to 5.0 cu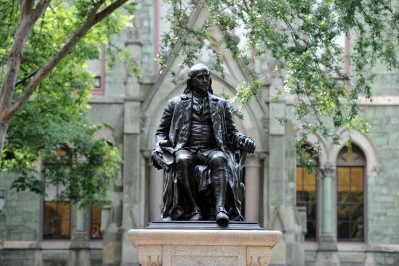 FOR CURRENT STUDENTS:
Masters Degree Requirements
Wharton Doctoral Office Resources
RETURN PhD Program Home
RETURN Current Students Home
For more information or to request admission application forms: